What does it take to Reinvent Democracy?
Guest Post by Lee Baker
How can we make politics more appealing? Do we need laws to force politicians to work harder by making seats less safe, or to work less for big donations by taking money out of politics? Do we need to listen more and give their opinions less,or is it the job of politicians to show leadership by changing public opinion?
As one of the very unusual people who is not only a member of a political party – themselves a rare enough breed at 2% of the population – but is active, knocking on doors, discussing policy and the like, I am familiar with discussions on fixing broken politics. These discussions have gone on since I was a young person and never seem to get anywhere.
So the U.lab online course is a breath of fresh air in that it takes us outside our heads and outside our bubbles. It encourages us to sense an emerging future and not repeat the mistakes by pursuing rational, technocratic answers that forget about how people feel about politics.
I am part of a Reinventing Democracy group at the King's Cross Impact Hub which has brought me out of my comfort zones and ways of knowing by going on 'sensing journeys,' to see from the perspectives of others. I went to a local election count to see politicians in their natural habitat, and I took to the streets to find the angry people who are often talked about but rarely truly heard.
At the local election count I experienced both the strange joy of activists, such as the labour of love involved in creating a new political party, with the colours, slogans and logo. I also felt and heard the way that closed political identities shut down conversation and shut out the public. How to spread the joy activists feel and tear down the barriers between people who agree on much more than they disagree?
On the streets, on world listening day, I experienced the discomfort of open-ended listening for no purpose and for no political party. Holding up a 'free listening' sign I invited conversations that I was not steering.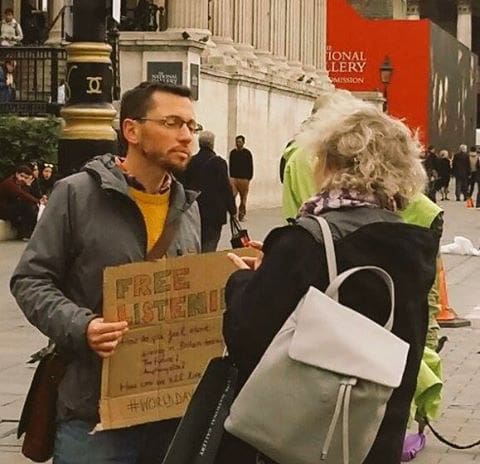 Some were puzzled as to the need for listening. An Italian family told me they were used to listening in their village. A young man from Tel Aviv said in his culture you could strike up conversations more easily. An Irish woman who'd lived here all her life started with the line that is trotted out in dinner party conversations and in newspaper columns. "The people in the North are not listened to." I responded: "Do you feel listened to?"
This opened up a conversation about the woman's family, about her fears for her children, about having to sell her house. She wondered what listening really is. "Real listening needs a response," she said.
I was left wondering how party politics, driven by the pleasures of the ego, can open itself out to deep listening of this kind and, if not, what we can do about it. I am hopeful that our group can move from sensing how the system is now to alighting on prototypes for fresh ways of doing things. If only we stay open to possibility of the new and do not let ourselves by distracted by old thinking.
Lee Baker works as a community organiser training community leaders in how to listen to motivate and to involve. Originally from Sussex, he has been involved in community politics in London himself, standing as a local councillor, and he lives in south-east London. There is more information about his social enterprise London Community Action at www.londoncommunityaction.org.uk.