Last week we hosted Food Talks, a quarterly event aimed at stimulating debate and constructive thinking about the issues that surround the world of food.
Each event has a different focus, the topic of discussion this time being resilience by design – how to weather climate change.
Climate change and climate action has made the news agenda a lot recently, especially in light of the Extinction Rebellion protests. However, what isn't in the news is the dramatic effect that the climate emergency has on our interaction with our food systems, and the link between people, food and the climate.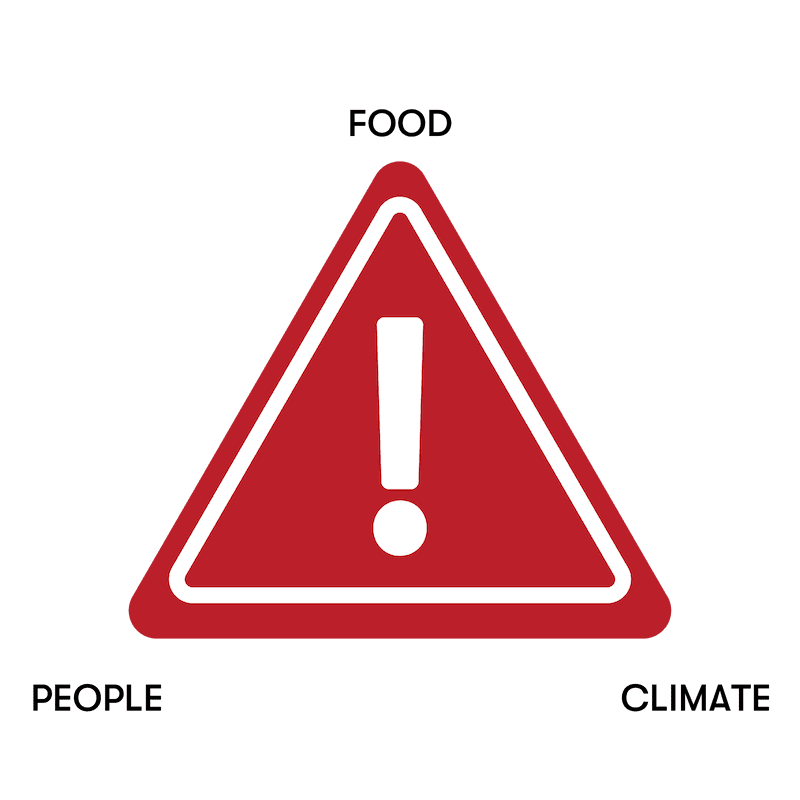 PEOPLE, FOOD AND THE CLIMATE
"Climate change does not affect everyone equally". Kiri Hanks (Oxfam) summarised.
Climate change is no longer a far off threat. It is happening. Hunger is on the increase, and a decade of progress has been wiped out in the last three years.  
We are at a critical point where an increase or decrease of just 1.5 degrees could force entire populations into poverty.
What difference can a couple of degrees really make?
Food crops need very specific conditions to thrive, and just a couple of degrees can make the difference between having a viable crop or not. Agriculture relies on the climate, and right now it seems like we're on track to see temperatures increasing around 3 degrees, completely disrupting the crop cycles.
But it's not all bad news – levels of understanding about climate change are at an all time high
After years of campaigning and trying to ensure that climate change is on the agenda, it seems to have finally broken through into the public consciousness. Clare Oxborrow (Friends of the Earth), sees this as a massive opportunity as now solutions can gain increased traction. This year is also the first time that land usage by meat has been put into reports and recognised, and the government has signed up to reach the target of zero emissions by 2050.
However there is still room for improvement. It's great that climate change is on the agenda, but we need to start joining the dots between climate, food and people.
Here are five ways we can do this as shared by Kiri Hanks and Clare Oxborrow:
1) Think twice about the things that you buy, where they come from and how they are produced. By recognising that a product doesn't only survive in the supermarket and then in your home and that there are real processes behind it, it will impact the way you see what you are eating, and hopefully lead to more informed choices.
2) Hold the government to account. Talk to your local MP, start petitions and get politically active. After all, if we can get governmental change, it will reach a lot wider than the change we can make as individuals.
3) Support your local crop drop scheme rather than buying from the supermarket. Or if there's no crop drop scheme in your area, try to buy locally as much as possible.
4) Diversify your diet so that you're eating more seasonal food and try to learn more about the food that you're putting in your body.
And most of all…
5) Get active, start campaigning and more than anything, keep talking and opening up conversations. By opening up conversations we can build powerful and connected movements that can inspire real change.