Our Response to COVID-19 and how we are Supporting Social Enterprises and Businesses 
Updated as of 6th July 2020
The COVID-19 pandemic has impacted businesses and social enterprises across the country, we have reacted quickly to adapt to new way of working and create opportunities for businesses to survive and thrive.
This page is updated on an ongoing basis with resources to help you weather the storm, and we are hosting virtual events, webinars and workshops, along with opportunities for our member community to support each other.
Our Space
We adhered to guidance from the government as well as global and local health authorities, and made the decision to close the Hub on Monday 23rd March. 
As of 19th March 2020, we implemented a "work from home" policy for all non spaced-based employees. All work-related domestic and international travel has also been restricted for all employees until further notice. As of 19th March 2020, we suspended all in-person internal member and programme events until further notice, and have rescheduled events to be held online.
As of Monday 22nd June, the Hub is reopened, operating from 9.00am – 5.00pm Monday to Friday. We are in full compliance with Government Guidance on managing the risk of COVID-19, implementing 2m spacing, mask requirment, thorough cleaning regimens, and temporary closure of our shared kitchen space. Please see our full Risk Assessment according to Government advice and recommendations here, Hub Rules for safe working in the Hub here, and COVID-Safe Government Certificate below.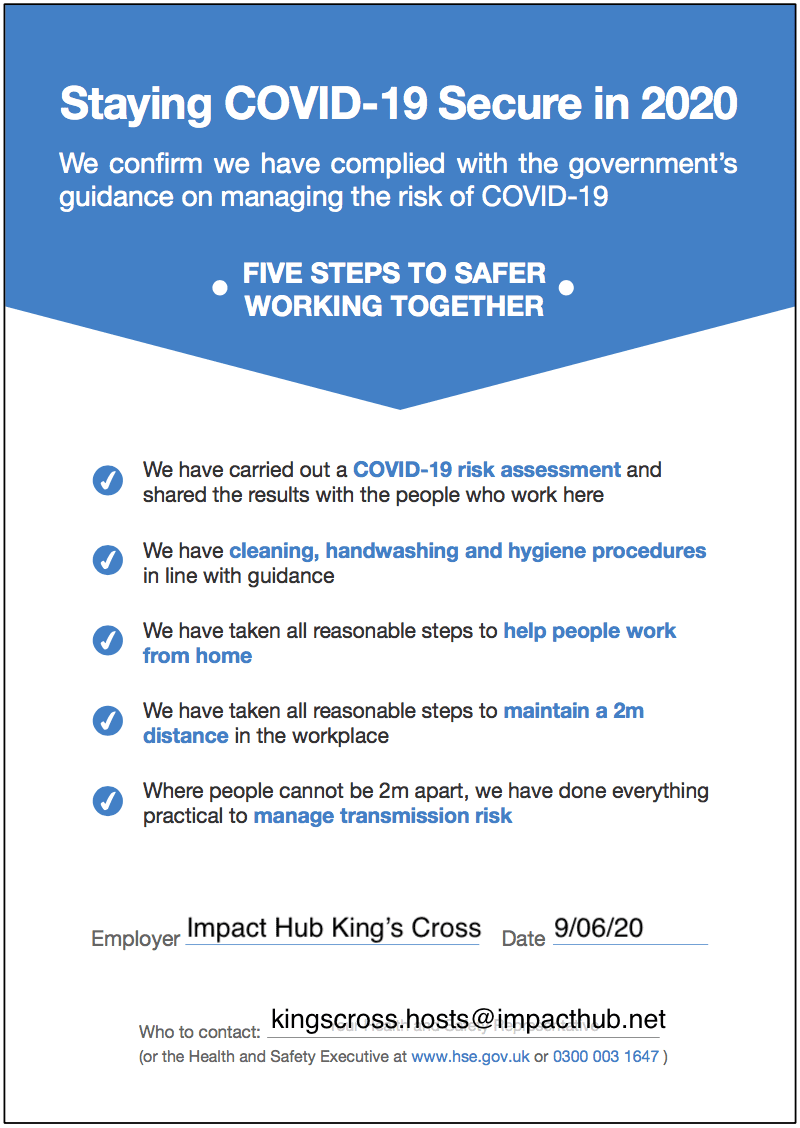 Virtual Events to help your business adapt 
Our scheduled virtual events, webinars and meet-ups can be found here. 
Support to members
We continue to support our members through providing online business support, events, workshops, individual business consultancy and clinics, and connecting our members with our global network through our Community App. 
Business support to our networks and communities
Entrepreneurs and individuals can access all online resources through our 'Connect' membership. Sign up to register your business with us at a cost, get priority access to events, free business consultancy from our team and network of experts, and perks (like 15% off Zoom). 
Additional resources for social enterprises:
Health resources:
If you have any health questions, symptoms or have travelled recently, check out the guidance via NHS online.