We loved coming together with one of our amazing members, the Say it Loud Club, for a very special 'PRIDE: What's it to me?' discussion to celebrate Pride.
We came together with the Say It Loud Club community for an informal exploration into the true meaning of Pride (for LGBTQ+ people and beyond). By opening the floor to our communities, we held an honest and thought-provoking conversation about our individual experiences of pride, our journeys to self-celebration, and barriers to pride.
The discussion opened with a heartfelt welcome from Say It Loud Club founder Aloysius Ssali who described the challenges faced by LGBTQ+ communities around the world, and that "Working as a community we can bridge the gap so that we can help our people, give them a fair platform, so that they can achieve their dreams". We then heard an overview of the history of Pride by Trustee Katie Mccallum, who asked the crowd what Pride means to them, see the beautiful responses below.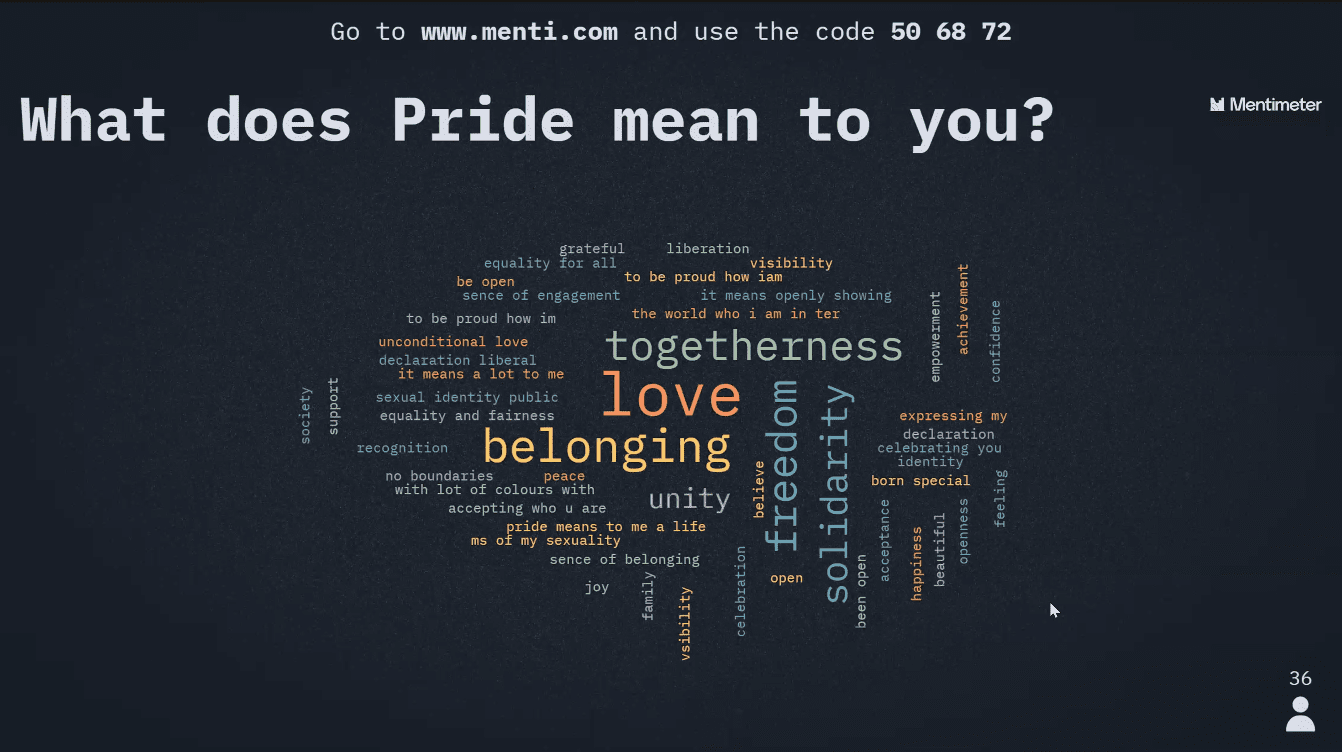 Our Community Coordinator Sally then opened a thought provoking question to all, asking: "What are some of the things that can stop us from feeling proud, and how can we overcome them?"
Aloysius opened the floor with the statement that everyone should be able to live the lives they want to live, but that often it is hard as people are sometimes not accepted by families and communities. We heard from Say It Loud Club member Ruth, who described the difficulties faced in family acceptance, and that she has now "found my family through the Say It Loud Club", and that she is happy with who she is, and breaking barriers to acceptance. We also heard from Ruth, who shared her personal experiences and barriers faced from her family and community as an LGBT+ person growing up in Africa, and how she has grown to love and accept who she is through the Say It Loud Club.
Our Community Coordinator Sally then opened the last question, asking: "If you can go back in time and speak to your younger self, what advice would you give yourself?" We heard from Tua Fese, who said that looking back, she would tell herself to 'have confidence in yourself, be who you are, express yourself, and don't be afraid', and with Ruth saying 'I would tell myself to not care about what other people think of you, just be proud'. We ended with a lovely note from Aloysius, who shared thanks to IH King's Cross for hosting Say It Loud Club members in the Hub, where they can always feel safe and accepted.
A huge Thank you to the Say It Loud Club for coming together with us on this important conversation!